[Home] [ Travel ] [ City Tips ] [ Exploring the Countryside ] [ Local Pub ] [ Wheelchairs ]
[ Guest Comments ] [ Cottages ] [ Photos ] [ ] [Weddings] [ Contact Us ][ Home ] [ Up ] [ Infants ] [ Extra Beds Conifer ] [ Inventory ] [ BroadBand ] [ TV Den ]
Computer Work Stations, WiFi
and Internet Resilience
If you are in Cherry Tree Cottage and there are problems with your internet connection,
the easiest emergency solution may be to pickup the wifi signal outside Conifer Cottage.
If you are in Conifer Cottage and there are problems with your internet connection,
the easiest emergen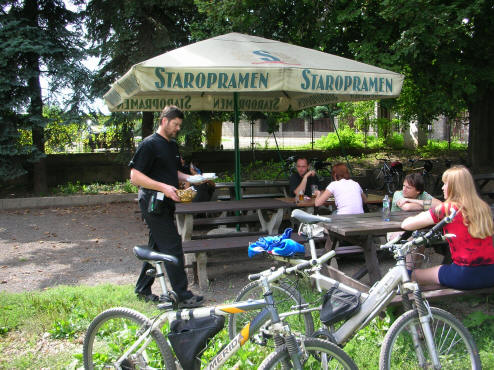 cy solution may be to pickup the wifi signal outside Cherry Tree Cottage.

Ve Mlejne Pub Restaurant also provides free WiFi.

IdyllicPrague.com understand that for some
Guests the provision of a reliable broadband WiFi
internet connection is very important.
Both Conifer Cottage and Cherry Tree Cottage
are therefore each fitted with VDSL WiFi broadband
modems.

In addition, we have installed emergency
back-up WiFi modems. In case of a failure of the
VDSL WiFi modems we will endeavour to activate
the back-up systems for you. We are delighted that
this has not yet been tested for real!
If internet access during your holiday is particularly important to you we recommend
1) Let us know in advance that internet connectivity is important to you
2) In the very unlikely event of a problem with the WiFi broadband internet
service in your Cottage, we recommend that you walk around to the
other IdyllicPrague.com Cottage and connect to the WiFi signal there,
or enjoy a beer in Ve Mlejne Pub Restaurant while using their WiFi
For details of the double broadband IdyllicPrague.com provided a few years ago, click here.
We have been able to discontinue the idiosyncratic "GTRAN" service as the technical
broadband infrastructure has improved in the Bohemian countryside, enabling us to
rely on standard ADSL Broadband modem equipment.
For more photographs, click here
[ Up ] [ Infants ] [ Extra Beds Conifer ] [ Inventory ] [ BroadBand ] [ TV Den ]